Working mode characteristics
1. RECORDING OF ANY AND ALL DATA INCOMING TO THE RS232 PORT
Possible applications
recording of data from a scale meter upon pressing a PRINT key on the meter
recording of cyclic data sent by the scale meter (e.g. once a minute) – the mode can be used for recording overtime changes in the mass.
2. DIGITAL INPUT ACTIVATION FOLLOWED BY RECORDING OF ONE FRAME
In the following mode, although the data flows regularly into the RS232 port, it will not be saved until the digital input activation takes place in the RSD. After setting the digital input in the high state, the RSD recorder will record the first received frame which shall meet the requirements set during configuration (e.g. requirements related to the length of the frame, to points marking the frame endings, etc.). It will then enter the standby mode to wait for another digital input activation.
Possible applications:
a scale meter, connected to an external LED display, the RSD device connected to the RS232 transmission line (GND and Tx only). Recording of one frame takes place after pressing of an external button.
3. SENDING ENQUIRIES VIA THE RSD DEVICE
In this mode, the RSD is able to send a frame, defined during settings, within a determined time interval.
4. MONITORING VEHICLES PASSING OVER THE WEIGHBRIDGE
In this mode, the RSD records a fact of some mass appearing on the weighbridge, if the mass value is higher than the threshold value defined during the configuration (e.g. 400 kg). The recorder records the maximum stable value of the mass, or the maximum unstable value of the mass, should there appear no stable value between entering and leaving the weighbridge. The recorder can also adjust a relay to a determined time period, should there appear any mass being greater than the threshold mass.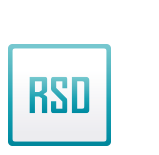 Software
The computer software is delivered along with the recorder. The software allows to configure the recorder, read, export and display recorded data. It includes a graphics editor, by means of which the user can define the location of data in question on the incoming transmission frame. Owing to that, retrieving information, being a smaller part of a whole recorded transmission, can be easy.
By means of the RSD software, the user can:
Analyse data gathered in the memory of the RSD device
Read recorded data (upon their prior saving on the USB key)
Retrieve data from transmission frames recorded in the RSD memory
Configure the device effectively
Export data to the csv, txt formats
To ensure proper operation of the software, it is required to have a PC computer with the Microsoft Windows 2000 operating system or its upgraded equivalent and one free USB port.