Determining a type of packaging
In the GSW program the user can determine, at his discretion, a type of received / released packaging, depending on the company's profile of its business activity. The packaging includes as follows: pallet, wooden crates, metal hoppers, pallet collars, plastic packaging or containers. To each of the defined packaging the user can assign the weight of the said packaging.
Packaging collecting and returning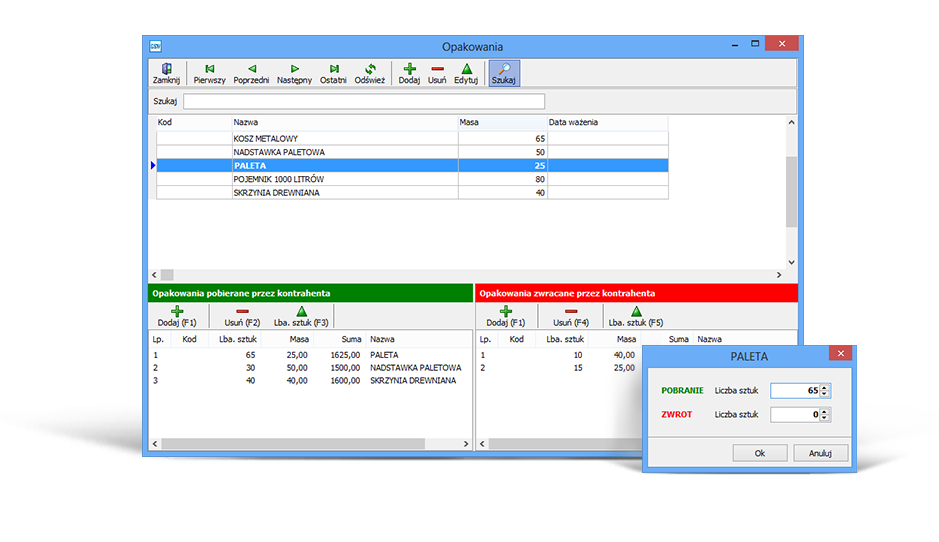 In the GSW program, while entering new types of packaging, the user determines a unit weight of the packaging. Then, during the weighing process the user can determine how many containers are going to be collected or returned by the customer. The program automatically calculates the total weight of packaging being accounted for.
Weighing operations involving containers / packaging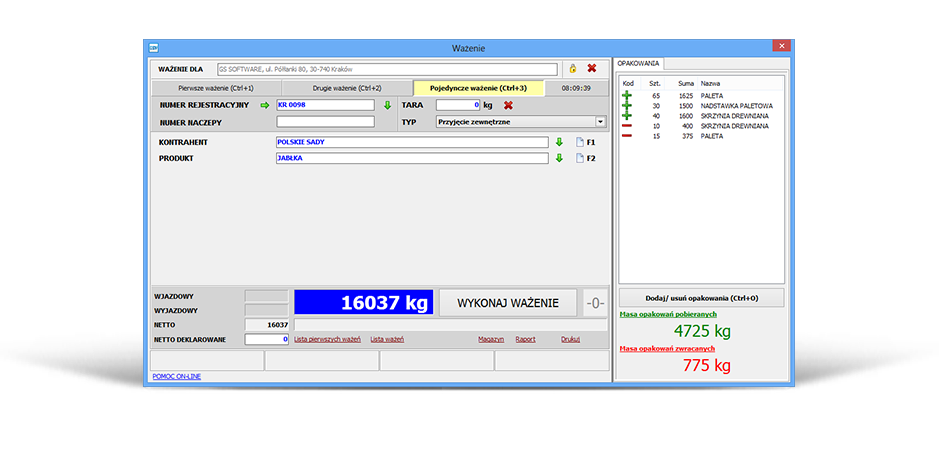 While performing any weighing operations within the scope of packaging or container handling module, the weighing window displays the weight of packaging returned / collected by the customers. The packaging weight is automatically calculated; the weighing ticket displays not only the packaging weight but also the remaining weight to be accounted for.
Weighing operations involving containers
Weighing of materials in containers runs similarly to the weighing processes with various types of packaging. The user can determine the weight of collected/returned containers and their types. The entered data are displayed on the weighing list and weighing ticket. The entered data can be edited.
ORDERING INFORMATION
| PRODUcT | ORDER CODE |
| --- | --- |
| GSW Standard Software | GSW-STD-EN |
| Packaging and containers handling (software module) | GSW-ADD-M-03 |
Additional modules to the GSW Standard program
Please find out what additional modules can be added to the functionality of the GSW program in its Standard version. CLICK ON THE ICON.